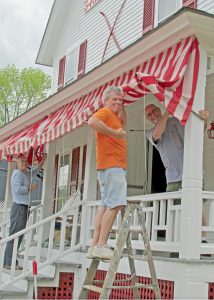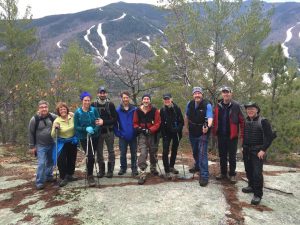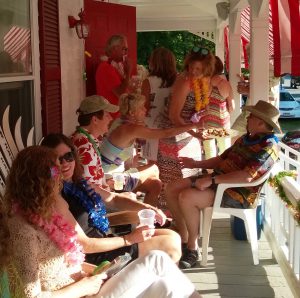 New and Prospective Members
The S-Kimos Ski Club is a member of the Eastern Inter-Club Ski League (EICSL ), which comprises about 30 ski clubs in the Mt. Washington Valley. We provide an organization where you can meet people and involve yourself in a wide range of social and outdoor recreational activities. We are always interested in new members and usually have a limited number of openings available.
For more information about Skimos, please send email to membership@skimos.com.
We are located in the heart of the White Mountains in Jackson, NH, near many popular ski areas such as Wildcat and Attitash, and less than an hour from both Sunday River and Bretton Woods. If you're into cross-country, Jackson Ski Touring is only a short walk from our house. There are also many social activities, with inter-club parties on weekends throughout the ski season.
We sleep a capacity of about 60 people in dormitory style rooms divided between men and women, and during the ski season, hire cooks to provide breakfast and dinner on weekends. This is a year-round Club, with members participating in hiking, mountain biking, golf, and other activities.
New and prospective members will find the Membership Handbook of interest. It is more or less an FAQ about the S-Kimos Ski Club, and will answer many of the questions that you might have. In the handbook you will find information about the Club and lodge rules. The Club has about 150 members, with a diverse set of personalities and interests. Please be understand that these rules are used as guidelines, and have been developed over the years based upon previous experience. The important thing to remember is respect for each other and common sense.
The Club Constitution
The S-Kimos Ski Club is incorporated as a nonprofit organization. The S-Kimos Executive Board and Committee are bound to uphold the rules of the Club Constitution and act accordingly with respect to it. Amendments to the Constitution are allowed by a vote of the "A" membership at general meetings, which are held four times each year. Both the Executive Board and Committee members should use this as a reference when questions arise. For more information, please review our Member Handbook.
Prior to Application
At least one weekend at the Club is required in order to meet people before your application will be considered.  Prospective members do not pay room fees for this introduction.